The Art Gallery of New South Wales celebrates Pop Art in Sydney.
1 November 2014 – 1 March 2015.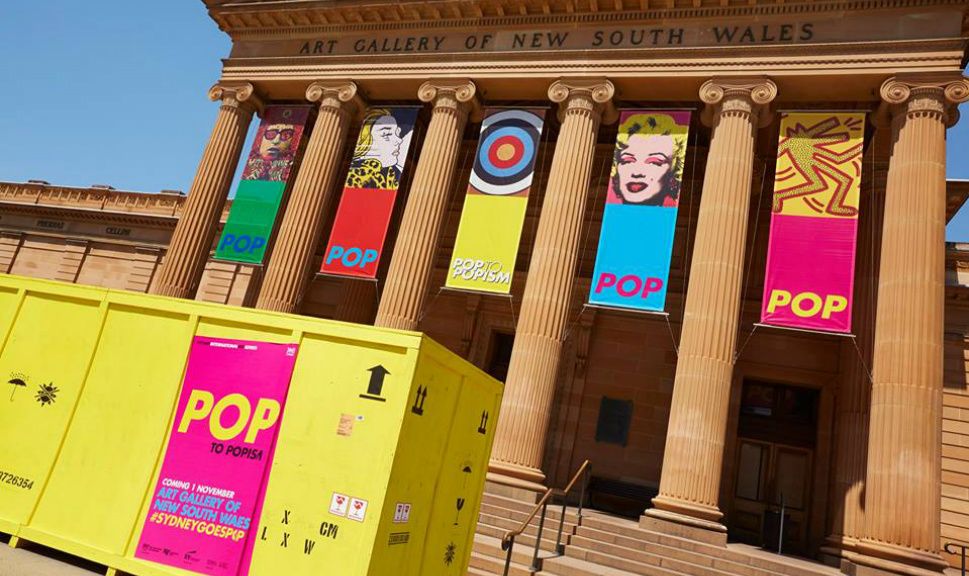 Featuring 200 works by over 70 of pop's greatest artists, borrowed from around the World, Pop to Popism is one of the most ambitious exhibitions curated by the Art Gallery of New South Wales. Pop to Popism is part of Sydney International Art Series which brings the world's most outstanding exhibitions to Australia.
Spanning three decades from the mid 1950s to the 1980s, Pop to Popism traces the origins of pop art, its heady high period, and its enduring legacy both in Australia and abroad. For the first time,
Australian pop artists are presented alongside their international peers from America, Britain and Europe, bringing critical attention to the development and reception of Australian art within the
broader pop art narrative.
But curator Wayne Tunnecliffe's broadbrush approach paints a wider picture of Pop to highlight Oz Pop's larrikin energy (Martin Sharp, Richard Larter, Mike Brown) and the role of women (Rosalyn Drexler, Martha Rosler, Marisol, Vivienne Binns, Bridgid McLean, Evelyne Axell) beyond being stereotyped and objectified as subjects in pin-ups, advertising and much of Pop Art.
"It was really deliberate to expand the whole dialogue around Pop Art because the iconic works are so well known," Tunnecliffe says. "We need those works as linchpins in the exhibition but we wanted to tell a much more complex and nuanced story about Pop Art and show how widespread it actually was, and show how different artists approached popular culture."
Pop was not a movement conducive to women, Tunnecliffe says. "We were determined to expand that conversation more broadly. The female Pop art is strong and it is tough."
Evelyne Axell was featured by one of its largest late work in plexiglas and enamel, "Le retour de Tarzan"(1972).
ART GALLERY OF
NEW SOUTH WALES
Art Gallery Road
The Domain
Sydney NSW 2000