March 7 to 29, 2015.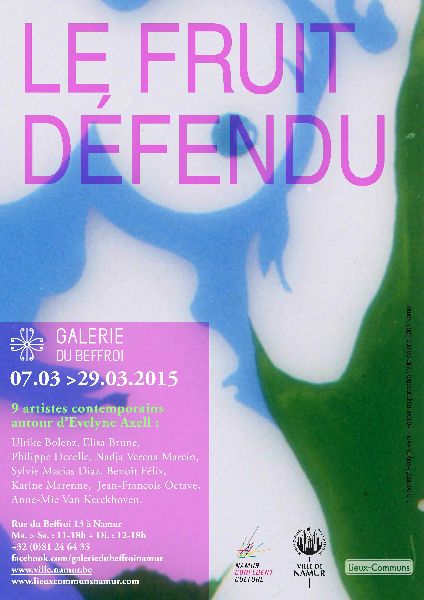 The association Lieux-Communs presents in partnership with the Culture Department of the City of Namur the exhibition "Forbidden Fruit" (Le fruit défendu).
In this exhibition nine contemporary artists echo the work of Evelyne Axell by the proposed themes, the techniques, the look on the world, the provocative irony …
The work of Evelyne Axell is now rediscovered internationally with exhibitions in leading venues for contemporary art. This artist has become an icon of Pop Art; using a gentle subversion, questioning the representation of women, identity, pleasure, relation to nature… topics still eminently present. While Pop Art can sometimes give the impression of lightness optimism rooted in the 60s and linked to the consumer society, the work of Evelyne Axell, by its darker side beyond appearances, raises timeless questions. This exhibition pays her in her hometown, a living tribute to mark the precursor side of her artistic approach.
Galerie du Beffroi
Rue du beffroi, 13
B-5000 Namur