11 Female Artists Who Left Their Mark on Pop Art
Artsy Editorial
By Rachel Lebowitz
Dec 2nd, 2016
From its inception in the early 1960s, Pop Art was a boys' club. Huge names like Andy Warhol and Tom Wesselmann perpetuated the myth of the (male) artist-as-genius. The movement emerged amid the post-World War II explosions of capitalist consumerism and mass media, as artists explored new modes of mechanical production, often by taking commonplace consumer goods and pop-cultural icons as their subject matter. Associated with an unemotional, distanced attitude toward artmaking, Pop Art's codified characteristics are, in turn, stereotypically male.
For female artists participating in the movement, cultivating a persona as a so-called serious artist seemed like the only way to succeed. An alternative strategy was to (often cheekily) critique Pop Art and its workings from the inside out. In many cases, though, these strategies were interpreted as playing by the rules rather than challenging them, and, more often than not, these routes failed to reward female artists with a lasting place in the mainstream. Now, however, with the nuances of their practices better understood, female artists from around the globe are gaining more recognition for their contributions and challenges to Pop Art.
Associated with the Pop movement to varying extents, the following 11 women artists (by no means an exhaustive list) all engaged with its motivations and defining characteristics, some by expanding the genre through feminist inflection, others by working along its margins.(…)
(…)
Evelyne Axell
Belgian artist Axell was recently included in the museum shows "International Pop," which toured Minneapolis, Dallas, and Philadelphia, and "The World Goes Pop," at the Tate Modern. In fact, this past summer, her work Valentine (1966) earned her a spot as the first female Pop artist to be included in the Tate Modern's permanent collection. The work depicts a female cosmonaut with a toy helmet (a real helmet, formerly donned by Axell's son) and references Valentina Tereshkova, the first woman to fly into space. Like a classical nude meeting a Monroe-esque pin-up, the woman's body features a functioning zipper that reveals her figure. Not just an object of male desire, she is self-possessed, seeming to draw empowerment from her traditionally masculine profession.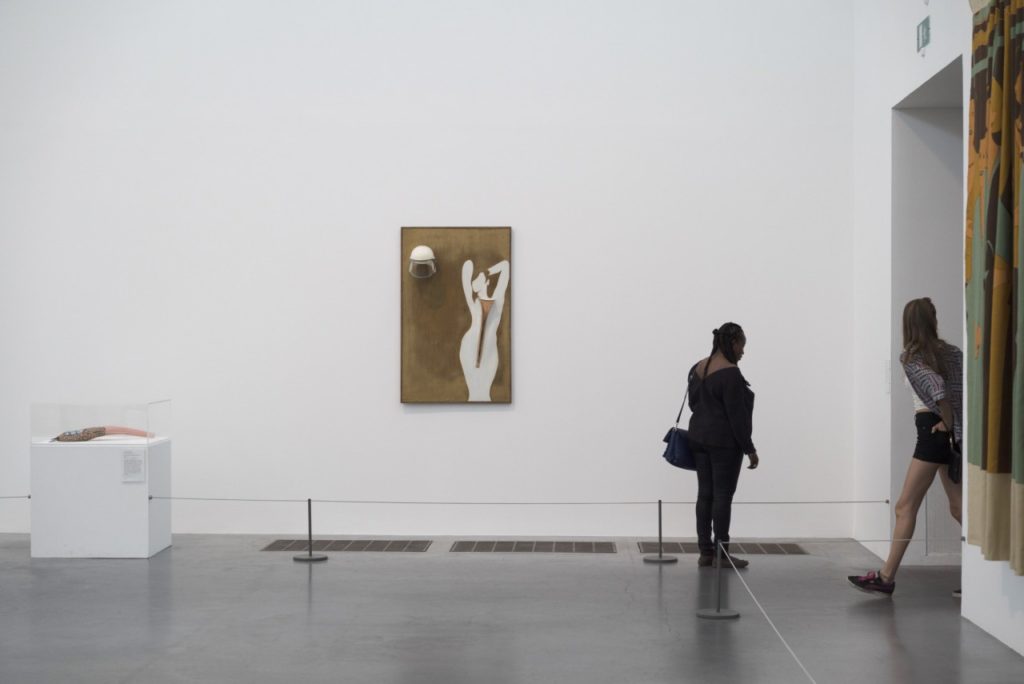 Another piece, Ice Cream (1964), caused a stir after it was censored on the Philadelphia Museum of Art's Facebook page earlier this year. When created, it was misunderstood as playing into the status quo. Now, however, it is seen as an expression of sexual liberation and female pleasure, standing in opposition to the merely ornamental female figures that dominated the male-centric Pop Art movement.