"Store vénitien", a 1969 exceptional work, will be on sale in London.
In January 1967 Evelyne Axell had her first solo exhibition at the prestigious Palais des Beaux-Arts (today BoZar) in Brussels. A very short exhibition that lasted for less than two weeks but revealed the extraordinary diversity of her work, mixing oil on canvas, collages and assemblages, including the famous work "Valentine" now part of Tate Modern's collection.
Amongst the works presented at this exhibition, the theme of "Erotomobiles" was clearly the main feature with a number of works evoking the car such as "Ceinture de sécurité" (safety belt), "Clé de contact" (ignition key) and even a large canvas with a real tire painted in fluorescent pink.
However three recent works with a different aesthetic approach were also on display. A color stripes background would be painted on canvas using oil paint while a silhouette would be cut out from rough (untreated) canvas, colorized with spray car paint and glued on the background. Two of them had vertical stripes – "Championnes 1 & 2" – and one horizontal stripes; "Store vénitien".
"Store vénitien" was spotted and acquired by Bernard Giron, the son of Robert Giron who presided the Exhibition society of BoZar for four decades and allowed this first solo exhibition.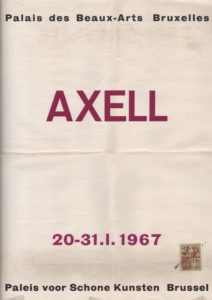 Perfectly capturing Evelyne Axell's unique aesthetic and important contribution to 1960s art-history, "Store vénitien" is undoubtedly a masterpiece from her early oeuvre.
It is now being proposed at the prestigious auction house Sotheby's for the fourth edition of Contemporary Curated in London, which brings together a diverse range of post-war and contemporary artist, guest-curated by Tank Magazine's Fashion Director and CEO Caroline Issa, and features on the cover of the sale's catalogue.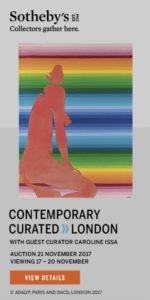 Contemporary Curated
21 November 2017 | 10:30 AM GMT | London
Sotheby's
34-35 New Bond Street
London W1S 2RT UK